OUR BUSINESSES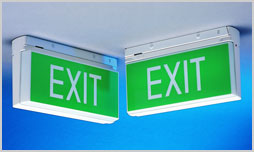 Commercial
For more than 30 years, Stanilite has been the evacuation lighting industry innovator, pioneering products like the Quickfit® slide connect Exit, the Spitfire® emergency, Nexus® evacuation lighting monitoring and long life Lumatec Cold Cathode lamp technology. We are now incorporating LED technology with our renowned product quality, providing the market with an energy efficient light source. Stanilite is regularly specified as the evacuation lighting product of choice and can be seen in a vast assortment of major buildings including Sydney's Star City Casino, Q1 - the world's tallest residential tower on Queensland's Gold Coast and Melbourne's Federation Square.
Thomas & Betts offers one of the broadest standard ranges of exit and emergency lights as well as producing a large array of modified products for large scale projects. You can be sure that the Thomas & Betts Stanilite range has something to cater for every situation and the technical support to ensure a satisfied client.
The complete Stanilite range is available through an extensive network of electrical wholesalers throughout Australia and New Zealand.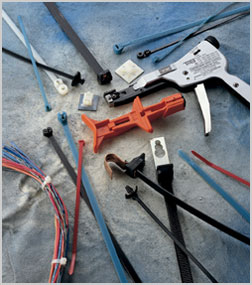 Industrial
Thomas & Betts is a world leader in the manufacture and supply of electrical accessories for the commercial and industrial construction, maintenance and repair markets. In addition, supply of product to the mining, communications and electrical utility distribution industries is a key focus.
The majority of the range is dedicated to the management, protection and connection of electrical cable. This means that ranges such as cable ties and fastening systems, flexible conduit systems and cable glands are core to the line up. With well known and trusted brands including Ty-Rap, Hi-Flex and Nicote, Thomas & Betts is well positioned to supply both your day to day needs and to provide specifiable products with specific performance criteria.
Like the Stanilite lighting, the Thomas & Betts range of electrical items is available through a vast network of electrical wholesalers throughout Australia and New Zealand.